Family Law Expertise Offered at Vero Beach Law Firm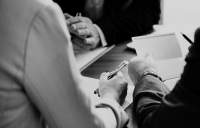 At the Vero Beach law firm of Green & Metcalf, family law attorneys focus on the legal representation of parties in relationships between spouses, domestic partners, as well as parents and children. Within the scope of these relationships fall issues such as divorce, child custody/support/adoption, property division, paternity, domestic violence and much more. Because of the subjectivity of relationships, family law can be seen as less black and white in its decisions, often with more emotion involved than in other areas of the law. However, the attorneys at Green & Metcalf realize this and work hard to ensure every client and case has a positive outcome in the courtroom.
"Family law is a sensitive area of the law because there are real people and real feelings involved in every case. Unfortunately, there are also real issues of law that have to be decided as well. In my own experience, I try to find a balance between resolving the client's issues within the requirements or restrictions of the law itself, and work towards getting the best decision for my client and their family," says Norman Green, Senior Partner at Green & Metcalf of Vero Beach, FL.
Within the area of family law, the legal system is ever changing in its attempt to offer resolutions that are in the best interest of all family members. The attorneys at Vero Beach family law firm Green & Metcalf are no different in their commitment to what is best for clients, as well as the rest of their family.
"We don't just look for the easiest legal answers. Instead, we consider how today's decisions will affect the family tomorrow and further into the future. I think that's how we really differentiate ourselves from other family law firms, because we always look at the bigger picture," Green said.
Norman A. Green is the founder and a partner of Green & Metcalf - Attorneys At Law. He has over 40 years of experience in the practice fields of criminal defense and family law (divorce, child custody, child support, paternity, modifications of existing orders, prenuptial agreements and alimony cases).